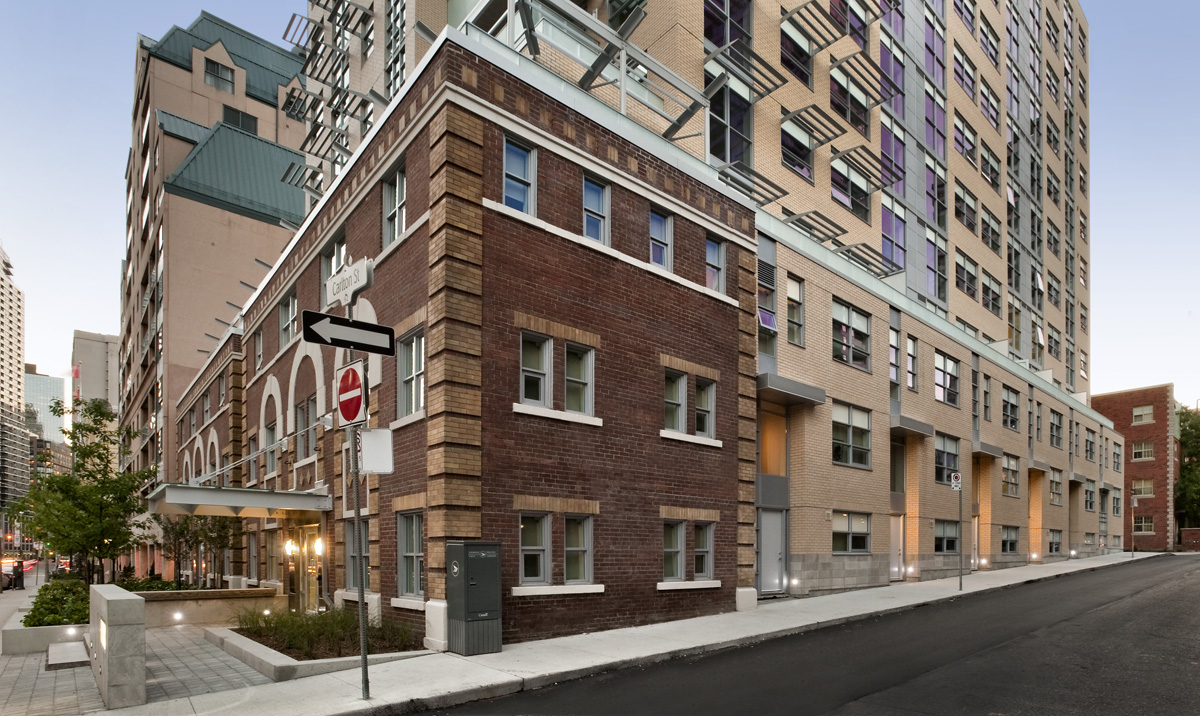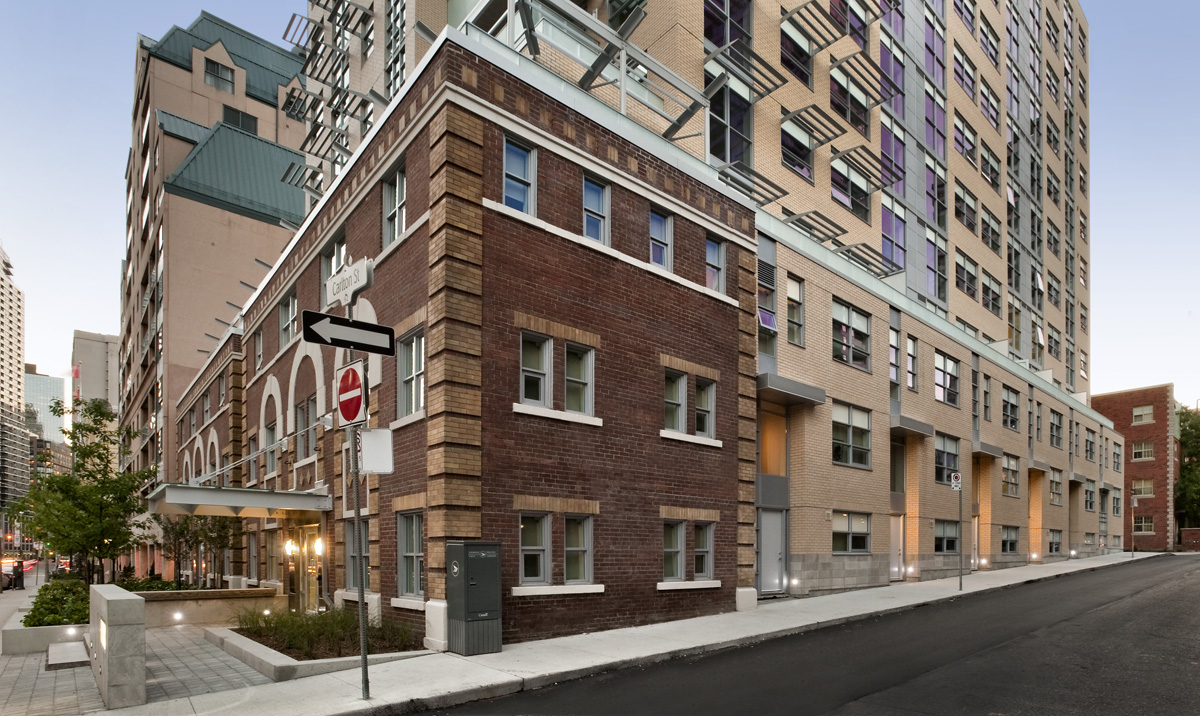 TORONTO COMMUNITY HOUSING

92 Carlton Street
Toronto, Ontario
2010
96,000 SQ. FT. (8,918 SQ. M.)
This 12 storey project incorporates walk-up townhomes, family units and terrace units (total 110). Designed to meet the equivalent of LEED silver, the building showcases several important green initiatives including a ground source geothermal heat pump for heating and cooling, solar preheat of domestic water, green roof, advanced glazing products and solar shades for highly efficient daylighting, an enthalpy recovery wheel, and the preservation of the historic facades.
Photos by Philip Castleton Photography
LANE HOUSE

Cork Town
Toronto, Ontario
2010
2,000 SQ. FT. (186 SQ. M.)
This unique infill project is exemplary of what can be accomplished on a very small site. Sitting on a 25 foot by 25 foot lot fronting onto one street and a laneway, the house is restricted to windows on only the North and East sides due to its proximity to adjacent lots. Rising five stories, the house is anchored around a glazed staircase which provides light throughout the dwelling. The stairs are designed with open risers to allow as much daylight onto the house as possible. Small details such as interior clerestorey lighting into washrooms were very important in order to maximize the use of the natural light in landlocked rooms.
Photos by Stanford Downey Architects

ONE YORK QUAY
1 York Quay
Toronto, Ontario
1987
This was an early addition to the Toronto Waterfront, with a negotiated Site Plan and Density. The design commenced in 1987. We were able to build six extra floors by employing a post-tensioned slab that allowed a structural thickness of only 6". Six townhouses were built along the water's edge to align with the Harbour Square Complex, varying from about 1,900 sq. ft. to about 2,100 sq. Two floors of parking were built below the water level of Lake Ontario, and the balance of the parking and a major recreational facility including an indoor/outdoor pool was built above grade. The common facilities boasted a Restaurant for tenants only also providing room service. The cladding is a very colourful mix of red, green, and blue aluminum window frames with white precast concrete, very much addressing the waterfront location.
Photos by Stanford Downey Architects Inc.