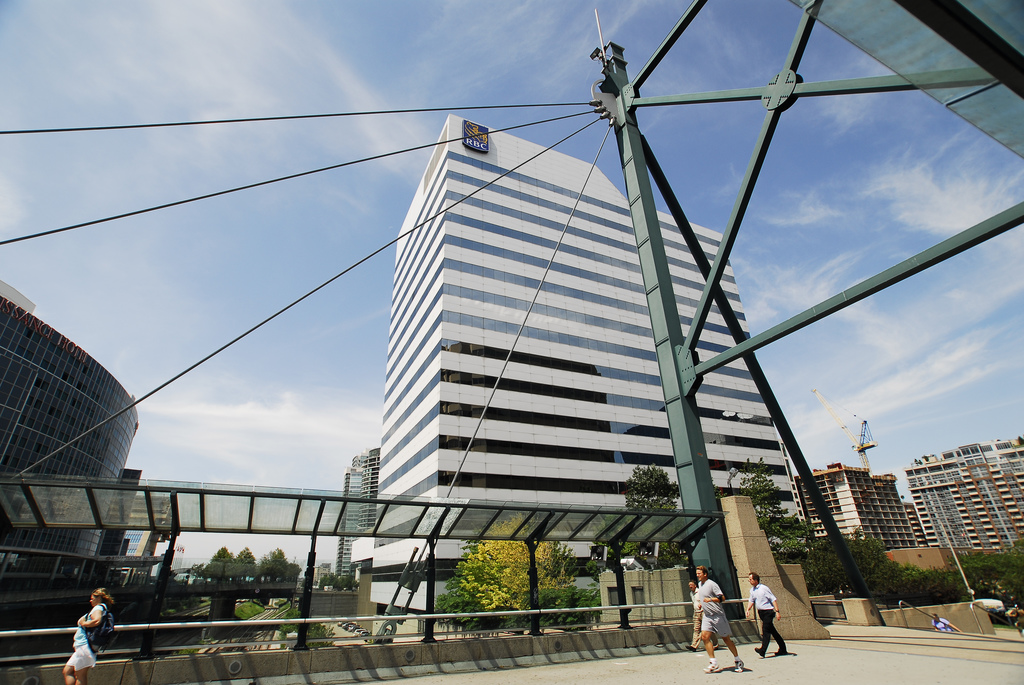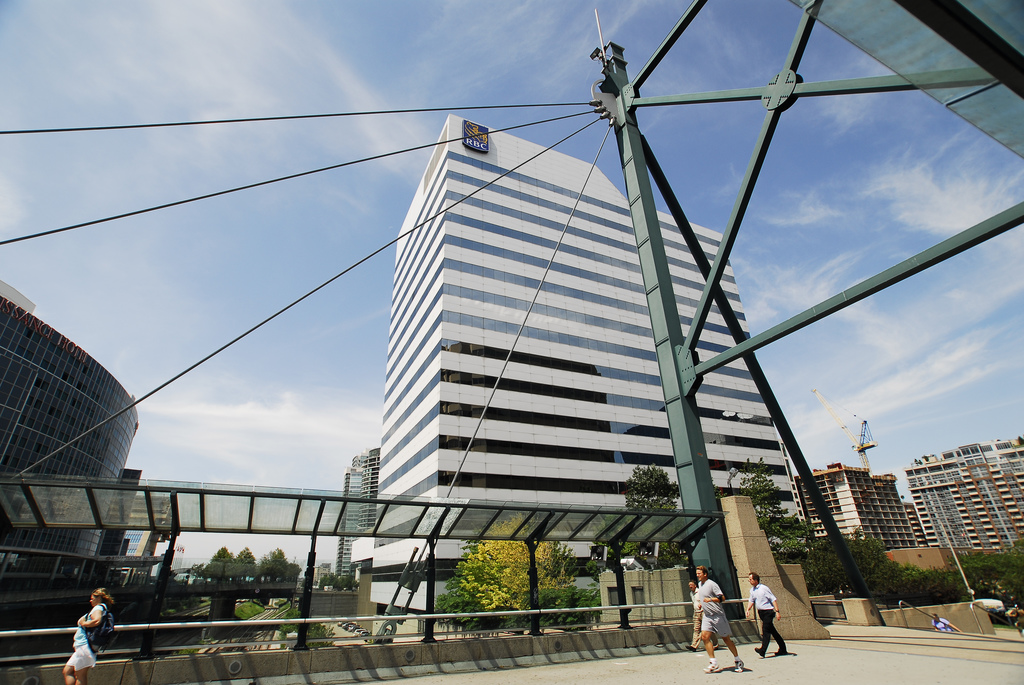 RBC COMPUTER AND RESEARCH CENTRE
315 Front Street West,
Toronto, Ontario
1984 TO PRESENT
580,000 SQ. FT. (53,882 SQ. M.)
The 17 storey tower was designed for the Systems Development Group, the computer research arm of the Bank, and as such provides state of the art telecommunications and computer networks distributed through a 7" raised floor system. Mainframe computer areas have 18" raised access flooring and meet all the special mechanical, electrical and security requirements set by the Bank for its Data Centres. Unlike a typical office building, the core is inward looking to provide a long unbroken wall against which the fixed offices and meeting rooms are located, leaving the open concept space adjacent to the windows for natural light which provides to all workspaces.
Photos by Stanford Downey Architects Inc.
SCOTIABANK CONVENTION CENTER
6815 Stanley Avenue,
Niagara Falls, Ontario
2011
300,000 SQ. FT. (27,870 SQ. M.)
Stanford Downey Architects, in association with CS&P Architects and the Kirkland Partnership Architects Inc., submitted the winning entry in the Design-Build Competition for the new 600,000 sq. Civic and Convention Centre held by the City of Niagara Falls. The facility can accommodate over 11,000 people at peak capacity and was designed for maximum flexibility. The programme includes an 80,000 sq. ft. exhibition hall (largest clear span convention space in Canada), a 17,000 sq. ft. ballroom, and a junior ballroom with retractable seating that transforms into a 1,000 seat theatre. Targeting LEED Silver certification, The Scotiabank Convention Centre offers visitors, business and staff a healthy and green meeting facility. Notable green initiatives include a 35% energy savings and a 30% reduction in water use.
Photos by Stanford Downey Architects
COMMUNITY OF CHRIST CHURCH
320 Richmond St East,
Toronto, Ontario
2016
1,699 SQ. FT. (156 SQ. M.)
This Community of Christ Church Toronto is part of a growing trend and conscious decision by the main Church, to downsize from their traditional classic building and to move to a commercial unit in a modern Toronto condominium. The program called for a reinterpretation of the traditional layout and finishes of a church into a new modern setting in a much smaller space. The planning is centred on promoting inclusiveness and social interaction from the entry signage to the actual physical space to the modern audio video features for online services and outreach to those that cannot attend.
Photos by Greg Van Riel
QUEEN'S BIOSCIENCES BUILDING
Queen's University
Kingston, Ontario
1999
230,000 SQ. FT. (21,367 SQ. M.)
SDA Inc. was responsible for the microprogramming, planning and detailing of the laboratories, research spaces and animal facilities. The new facility incorporated pressure regimens to separate areas of differing cleanliness levels and to provide containment. Lab Facilities included: Insect & Plant Biotechnology, Protein/DNA chemistry, Environmental Science, Population & Behavioural Biology, Animal & Fish Facilities, Herbarium and Phytotron.
(in association with Shore Tilbe Irwin)